The Best Ways to Connect with Your Loved Ones Living with Dementia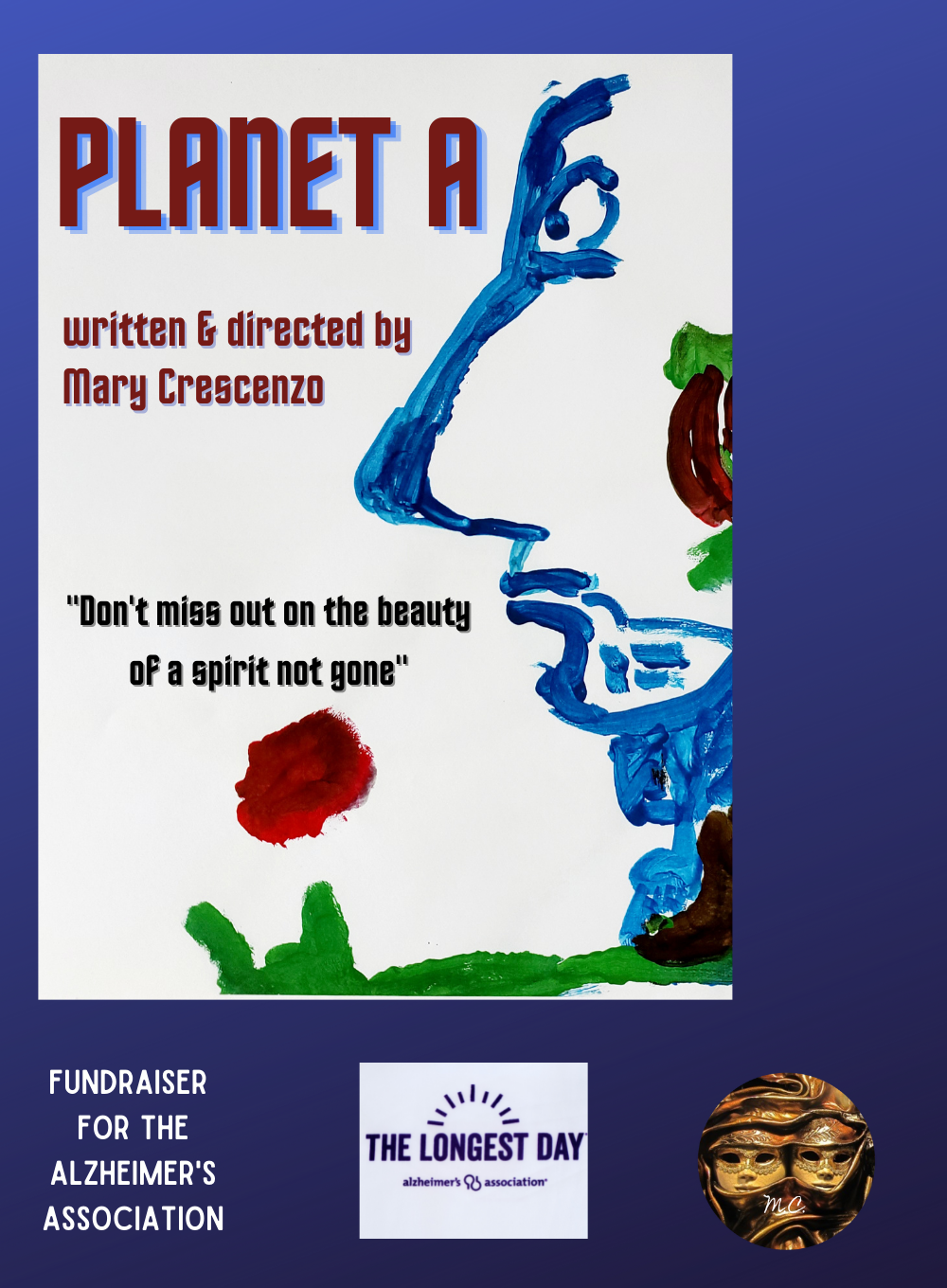 That's how art can help you engage with your loved ones
Art is more than just mere amusement. It can reinfuse yourself with hope, and your desire to connect to your loved oes who are suffering from dementia.
Dementia refers to deterioration in cognitive function that interferes with daily life. Alzheimer's disease is the most well-known type of dementia. It has no known treatment, and almost all dementia sufferers will eventually need ongoing care from a loved one or carer.
In her own words, "As an advocate for self-care for caregivers, I facilitate creative writing workshops which provide respite, relaxation, rejuvenation, and revelation through the art of writing. As an original member of the Lifetime Arts and Teaching Artists Guild, my mission has always been the same – to bring art to unlikely places. My motto remains, see what happens."
 "What do art and Alzheimer's have to do with me?" You might wonder? "How can I communicate through the arts if I'm not an artist?" Thankfully, you don't have to be an artist or possess the talents of Raphael, Vinci, or Picasso to learn how to communicate by taking part in these activities. You only need to be willing to put in a little bit of work, effort, and time.
I'll briefly go over each of the eight steps and show you how to use visual art, music, dance/movement, poetry, storytelling, and other activities to improve the lives of both the carer and the person with Alzheimer's/dementia.
Painting and Drawing on Memories
"If you hear a voice within you say you cannot paint, then by all means paint and that voice will be silenced." Vincent Van Gogh
Author Mary once received an invitation to a friend's art exhibition that was specifically for people with Alzheimer's. Due to the onset of Alzheimer's, Mel's father was unable to speak with his son.
The author observed Mel and his father drawing and painting together, their ability to communicate nonverbally, and how they rekindled their father-son relationship.
Art can do wonders in more ways than one can imagine.
Why Paint?
Using paint is a great choice for those with Alzheimer's/Dementia.
Painting improves focus and concentration, ambiguity, tolerance, image and concept formulation, imagination, and visual-spatial thinking are just a few of the learning components and learning domains that are involved in the process of creating art. A piece of art is also a product of sentiments and emotional sensitivity as well as important abilities like hand-eye coordination.
Important things to remember
> Ask your loved one if he/she can paint a picture of himself/herself, or a cat, dog, or anything else.
>Be sensitive; never criticize. Let the actions of art flow.
> Make sure to positively anticipate and describe the activity you will do together.
> Always verbalize what you are doing.
>Try some music. The pleasure of visual art is also enhanced by background soft music.
>Encourage the artist's work by responding favorably and by asking insightful questions about the piece.
>Encourage them to keep painting but don't push them to the edge. Know when to stop.
> Keep a journal about your experience and the painting as well.
>Thank your loved one for joining in and spending time with you. Tell them that you loved working with them and that you will return to work with them in the future.
Language of Music and Movement Songs, Sing-Alongs & Instrumental Music
"It is absolutely true that music brings people together. It's non-verbal and it goes to something that's deeply ingrained in our DNA."  Paul Simon
Why Music and Movement?
In institutions for people with Alzheimer's or dementia, various digital background music subscriptions are also played.
The purpose of music is not only for your listening pleasure, but to fill the void of stillness.
Sometimes patients may occasionally be reluctant to participate but with the help of music, the mood can change dramatically.
Once the author, Mary, asked a patient to paint but he was reluctant. Later when some music was put on the patient started to paint and was moving his arm to the tempo of the music.
Music has the power to stimulate memory, advance language, and foster meaningful relationships with loved ones.
The medium of music is inherently emotive. Some songs or pieces of instrumental music might make you feel happy, joyful, nostalgic, in love, or even melancholy.
 How to Get Going?
>You have the option to use movement as the primary component of your musical engagement. Simple clapping or feet tapping are easy ways to get the
movement going.
>Take into account the following factors while selecting music for dementia-affected persons-
What was popular during your loved one's late teens and early twenties?What songs did your loved ones' like?
Did your relatives have any kin songs that were significant to their culture?
Did they ever play any instruments? If yes, place it in front of them to see what happens.
Important Things to Remember
> Select a place where you can use it without distraction or disturbance.
> talk about the titles of the songs and the singers.
>As you arrange your supplies, talk about what you're doing.
>Don't forget to keep a journal about your experience.
>Avoid distractions as much as possible
The 4 R's: Rhyme, Rhythm, Recitation, Recall Poetry and Storytelling
"Stories are memory aids, instruction manuals, and moral compasses" Aleks Krotosku "Poetry is an echo, asking a shadow to dance." Carl Sandberg
Poetry has a remarkable ability to instantly and quietly alter the mood and emotions of people around.
Poems, and stories are an effective method for evoking nostalgia and a crucial key to releasing memories and feelings.
They may be associated with unique recollections of being read to them by parents, grandparents, or former romantic partners when they were young.
 Why Poetry and Storytelling?
People with Alzheimer's or dementia can frequently remember the words and tunes of songs from their previous lifetimes or recite the lines of a poem they had to memorise in school.
 They often share tales from earlier times, sometimes repeatedly.
Hence, poetry and story can be a tool for people with dementia to communicate.
Important Things to Remember
> Stories can emerge from your loved one's artwork that he/she created. Try asking a
few questions about the images which will often result in a response that can get a
story or communication going.
>Your loved one might occasionally nod off when you read to him or her or tell a story. This is completely typical to happen. If this occurs, gently take their hand in yours and ask them if they are asleep or call them by name. When he/she awakens, you can begin again and see what happens.
> Pick a collection of short stories or poetry that your loved ones would have liked. Talk about the titles of the stories or poems and mention the author's name.
> Don't force him/her to listen if he/she gets upset.
Photos, Art Books, and Visits to Museums
"The best thing about a picture is that it never changes. Even if the people in it do." Andy Warhol
This part's objective is not to create art, but rather to make art a special catalyst for remarks, communication, connection, and remembrance.
Why Photography and Art Books, and Visits to Museums?
In a Swiss care home, artist Laurence Agerter studied a dementia patient. She claimed that one man's consciousness would come and go like a lamp when he was shown different pictures. He could hardly speak.
But when he saw a picture of a cat with her kitten. He was able to talk for five minutes in a row and it was like he did not have any disease at all.
Why, therefore, did the man's response to the picture of the cat seem so strong? He might have made a connection between it and a memory from his youth. 'The recollection bump' is the name given by researchers to the phenomenon whereby elderly adults remember things that happened when they were 15 to 25 years old.
Therefore, photography and art books and Visits to Museums could be a starting point for someone trying to engage a family member who has Alzheimer's, and who wishes to connect with them.
Important Things to Remember
>Choose books/ photos with appealing visuals, representational and abstract.
>Bring books large enough to see the graphics, and ones that are simple to carry and manage.
>If at all feasible, check exhibit schedules and intriguing rooms by visiting the museum or browsing online a week before you go together.
>Select representational and abstract images that are strong but not upsetting.
>Choose artworks/photos/books that your loved ones are fond of.
>Be patient and ask them open-ended questions like: "What do you see?"
> Never say "do you remember him, her, this, or do you know what this is, when
pointing to an image?"
Engaging Family and Friends of All Ages An Intergenerational Approach
"Talk to Younger People – Talk to Older People: They Know Cool Stuff You Don't!" slogan as seen on a T-shirt Research demonstrates that everyone involved in intergenerational activities benefits from their involvement, regardless of the main objective or age group.
An intergenerational programme that allowed people with dementia to interact and form connections with a variety of people from different generations gave all participants the kind of meaningful engagement that is crucial for self-esteem and the capacity to fully participate in society. This made it possible for people to form connections and a sense of community in a secure setting. As a result, the community gave those suffering from dementia more respect, and more people were aware of the care and support resources already in place for them.
 An intergenerational program where people with dementia interacted and connected with several people from different generations provided meaningful engagement for all participants considered important for self-esteem and the ability to participate fully in society. This allowed people to develop a sense of connectedness and friendships in a safe and secure environment. This increased the dignity of older people and people with dementia within the community and increased public awareness about the existing care and support services available to them.
"The cast and crew of Planet A"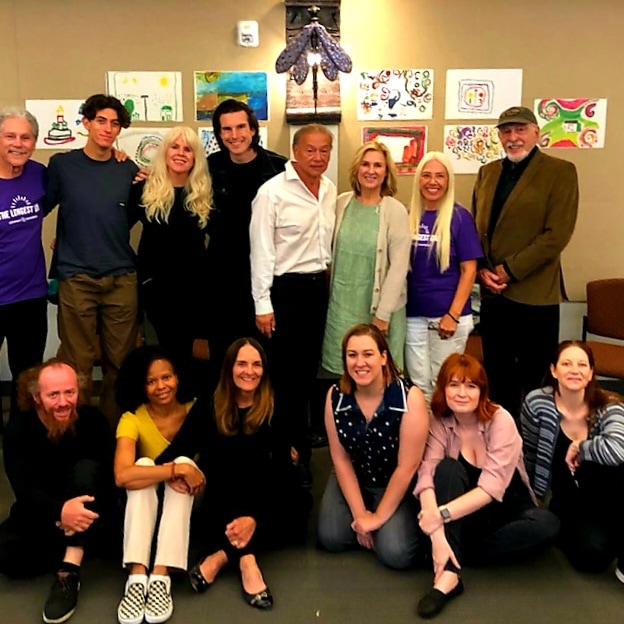 How to Begin & Important Things to Remember
>Beside your loved one, three people or less is the optimal number.
Before making a decision, consider which friend or family member, if any, would be the best fit for this. Share that very idea with everyone. You could be surprised to learn that someone you initially dismissed as unsuitable is actually interested in taking part.
>Find out in advance from various family members (or family friends) if they would like to join you and their loved one in creating art, elderly or young, doesn't matter.
>What kind of art would work best for a small group project? A fantastic nonverbal activity where generational disparities won't be an issue is painting.
>Moving and clapping along to music are other beneficial exercises.
>Sing together using timeless songs that even children can recognise.
>Another stimulating and thoughtful activity is sharing family pictures, stories, well-known poems, and art or photography books.
>Be flexible, but keep in mind that these exercises shouldn't feel like a kindergarten class; rather, they should be an enjoyable method to discuss shared creative experiences. Even those who have Alzheimer's dislike being treated like children.
>The ultimate goal should be to find a common ground through art.
>Don't forget to take photos of your experience for other family members
Including Support and Medical Staff in the Arts Experience
"We're All in This Together" song by the band, Old Crow Medicine Show
"United we stand divided we fall."
Although cliche, this is still the most admirable line ever. When a person has Alzheimer's or dementia, it is not simply the family's responsibility to care for the individual, but also a social obligation for everyone.
Just because you can do something alone doesn't mean you have to do it all by yourself. There's really no shame in asking for help. We often try to show others that we are strong enough and can deal with things all by ourselves. But deep down we know the truth.
Invite people to watch one of your sessions with your loved one once you feel at ease with the concept of inclusion. Each party will benefit from it. Your loved one will meet some new people, and others will develop empathy and will have firsthand knowledge that will be useful in the future. So always keep an open mind you never know what door it might open.
Displaying and Celebrating Art Creations by Those with Alzheimer's/Dementia.
"There is no must in art because art is free." – Wassily Kandinsky.
Every human being is an artist, as the saying goes. Alzheimer's/Dementia patients are not an exception. They can communicate their emotions through art. They are allowed to draw anything they want.
In art exhibitions where all the paintings are made by people with Alzheimer's/Dementia, it is observed that they become quite thrilled to see their own works in frames.
Caring for Yourself Through Art While Caring for Your Loved One
"If your compassion does not include yourself, it is incomplete." – Jack Kornfield.
Taking proper care of persons who have dementia or Alzheimer's is crucial. However, the carer should take care of themselves first.
He/she can choose writing which can be relaxing as well as new ways to discover himself/herself.  How are you supposed to take care of your loved one if you don't take care of yourself first? So, don't neglect your health either.
This article is merely a reflection of Ms. Mary Crescenzo's masterpiece, 'The Planet Alzheimer's Guide'. To have a full grasp of all the knowledge read her book. It will be really beneficial